Amnesty International has accused the Nigerian security forces, led by the military, of embarking on a chilling campaign of extrajudicial executions and violence resulting in the deaths of at least 150 peaceful pro-Biafra protesters in the south east of the country.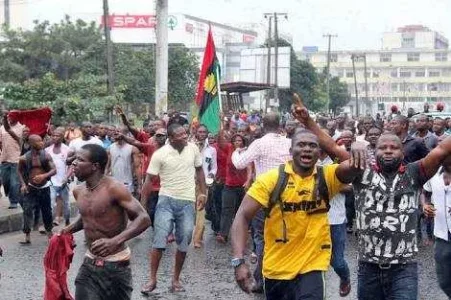 The international agency noted that analysis of 87 videos, 122 photographs and 146 eye witness testimonies relating to demonstrations and other gatherings between August 2015 and August 2016 consistently shows that the military fired live ammunition with little or no warning to disperse crowds.
It also finds evidence of mass extrajudicial executions by security forces, including at least 60 people shot dead in the space of two days in connection with events to mark Biafra Remembrance Day.
Since August 2015, there has been a series of protests, marches and gatherings by members and supporters of IPOB (Indigenous People of Biafra) who have been seeking the creation of a Biafran state. Tensions increased further following the arrest of IPOB leader Nnamdi Kanu on 14 October 2015. He remains in detention.
By far the largest number of pro-Biafra activists were killed on Biafra Remembrance Day on 30 May 2016 when an estimated 1,000 IPOB members and supporters gathered for a rally in Onitsha, Anambra State. The night before the rally, the security forces raided homes and a church where IPOB members were sleeping.
On Remembrance Day itself, the security forces shot people in several locations. Amnesty International has not been able to verify the exact number of extrajudicial executions, but estimates that at least 60 people were killed and 70 injured in these two days. The real number is likely to be higher.
Amnesty International has also reviewed videos of a peaceful gathering of IPOB members and supporters at Aba National High School on 9 February 2016. The Nigerian military surrounded the group and then fired live ammunition at them without any prior warning.
Despite this overwhelming evidence that the Nigerian security forces committed gross human rights violations including extrajudicial executions and torture, no investigations have been carried out by the authorities.