PREMIUM TIMES has published an exclusive report of how former Presidents Olusegun Obasanjo, Musa Yar'Adua and Goodluck Jonathan tackled budget padding during their time in office.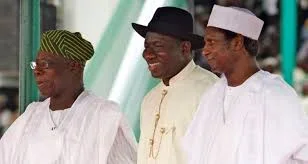 See brief excerpt:
In 2000, former President Olusegun Obasanjo refused to sign the budget passed by the National Assembly claiming it had been padded with about N2 billion.In November 1999, the former president had submitted a proposal of N667.51 billion to be spent in the 2000 fiscal year. It was his first having assumed office about seven months earlier.
In the budget, the National Assembly got an allocation of N22,714,438,837 out of which N13,229,683,837 was for recurrent and N9,484,755,000 for capital expenses.
But in approving the budget, the lawmakers added extra N2 billion for themselves bringing their total allocation to N24 billion. The president identified 15 other areas which he said were "contentious" in the document passed by the lawmakers and therefore would not sign.
Click here to read more
SOURCE: PREMIUM TIMES