Miyetti Allah Cattle Breeders Association of Nigerian (MACBAN) has traced what it claimed is the origin of the Southern Kaduna crisis.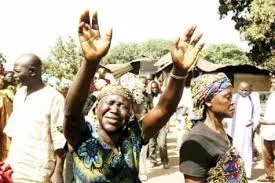 The group also stated that the killings which have been going on for years are not related to religion.
National secretary of MACBAN, Baba Othman Ngelzarma said the crisis was like any other between herdsmen and farmers across the country.
He likened the crisis to what is happening in Zamfara State where "Muslim farmers and Muslim pastoralists fight as well as Katsina State where Fulani farmers and Fulani pastoralists fight".
The official recalled that the Southern Kaduna crisis started from simple farm destruction in Godogodo community.
Ngelzarma lamented that it was mismanagement of the destruction episode that degenerated to the current situation.
Ngelzarma said that MACBAN had commenced the process of ensuring peace through communication with other groups saying the strategy had brought peace back to Benue State.
He further told Daily Truat that herders were not only culprits in the crises but also victims.
"Media is not balancing its report; they just jump into conclusion portraying the herders as the culprits. The herder is a victim and culprit at the same time. We are at the receiving end.
"When our cattle are rustled and Fulani herder is kidnapped, our story is not heard because the media is not covering that area.
"Today, kidnappers no longer kidnap Fulani herdsmen. What they do now is get his phone number and call him to go and pay ransom with a threat to kill him if he reports to police.
"Because he lives in the forest he would just sell two of his cows and pay ransom for him to stay peacefully whereever he stays.
"Before a personality is kidnapped in the town, twenty Fulani herders would have been kidnapped unheard in the forest; we are suffering.
"Where necessary we compliment what security is doing and we are going round the country for peace building", Ngelzarma said.