The bill to increase the powers and jurisdiction of Sharia Law in Nigeria passed through to the second reading at the lower chambers of the national assembly without a debate.
Abdullahi Salame, the lawmaker representing Gwadabawa/Illela federal constituency of Sokoto state, sponsored the bill which was said to have scaled through, "due to its sensitivity".
Jonathan Gaza Gbefwi, deputy chairman of the house committee on media and publicity told Premium Times that it had been discussed at the committee level.
"The bill came up on the floor and was automatically referred to the adhoc committee on constitution review. There was no debate on it either for or against because the house is a democratic representatives chamber of the Nigerian people," he said.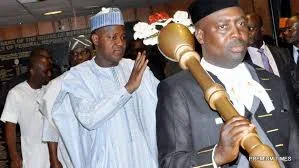 "Even if five people only have an issue with any section of the constitution, the house will give it a listening ear. The ad hoc committee on constitution review has one member per state and women and other representation.
"The precedence is that it is in this committee that these kind of matters are thrashed out."
Gbefwi said: "any bill that has potentials to divide the country on religious or tribal lines or to reopen settled constitutional issues will most likely fail in the committee".
"We are still at a very early stage in the process and Nigerians should not worry about bills of these nature as the house has shown over the years to be the protector of Nigerians' national unity and interest", he said.
The bill is seeking to amend section 262 and 277 of the 1999 constitution of the country.