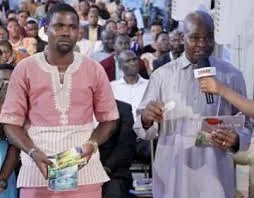 The recent tragic incident that saw a Bristow Sikosky S76 C+ helicopter crash into the lagoon in Oworonshoki, Lagos on Wednesday 12th August, 2015, have left quite a lot of people devastated and others, testifying.
Two offshore oil rig Sedco workers, Chukwudi Onah and Ebiejuara Dolu, following their survival in the tragic incident, on Sunday, 25th October, appeared in the church of controversial Nigerian Pastor T.B. Joshua to testify that it was 'God's hand' that saved them from the unfortunate incident.
The duo, who both sustained injuries but have since recovered, were accompanied by more than seventeen family members who came to share their testimonies, thanking God for preserving their lives in the disaster that led to six death, including that of the pilot and co-pilot.
Onah, testifying before the congregation of the Synagogue Church Of All Nations', SCOAN, said it was 'Morning Water' he had received at the church that was instrumental to his survival.
According to the survivor, "I never leave it anywhere I am going. It's always with me, along with my Anointing Sticker," he explained.
"On that fateful day, before I left my room, I prayed that God would take charge, I thanked Him for mercies, and then I sprinkled the 'Morning Water' upon myself.
"While on board, there were no signs of trouble as the flight was going "very smoothly". However, merely minutes away from arriving at Murtala Muhammed International Airport, MMIA, tragedy struck.
According to Onah, the chopper suddenly turned while still suspended on air.
- NewsHelm