The Human Rights Writers Association of Nigeria (HURIWA) has asked President Muhammadu Buhari to tell Nigerians if he has freed Kabiru Sokoto, who is the only Boko Haram terrorist convicted for the killing of over 50 worshippers at the Mandalla Catholic Church near Abuja.
The National Coordinator of HURIWA, Comrade Emmanuel Onwubiko, and the National Media Affairs Director, Miss Zainab Yusuf, in a statement yesterday, recalled specifically that prior to his sentencing, the terror mastermind, Sokoto, was accused of withholding information on the plan to bomb St. Theresa Church.
Part of the statement read: "Sokoto was further accused of supporting act of terrorism by training 500 men and inciting them to commit terrorist act, contrary to Section 4(1)(a) and punishable under Section 33(1)(b) of Terrorism and Prevention Act 2011.
"The accused allegedly facilitated the commission of terrorist act to wit by planting and encouraging some boys (now at large) at Mabira, Sokoto in Sokoto State with the intention to bomb the police headquarters and some other government agencies in the state.
"The alleged offence is contrary to Section 15(2) of the Economic and Financial Crimes Commission (Establishment) Act 2004 and punishable under the same Act."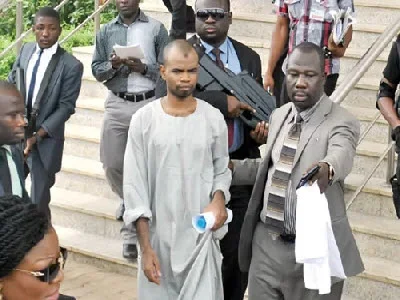 However, HURIWA has affirmed that since the current President Buhari administration accepted to free some Boko Haram terrorists being detained in exchange for the elusive Chibok school girls allegedly kidnapped over two years ago, the social media platforms are replete with reports of the release of this notorious terror mastermind who is one of the very few already convicted.
Recall that only few months back, Justice Ademola Adeniyi of the Federal High Court in Abuja had sentenced to life imprisonment Mallam Kabiru Abu baker Dikko (aka Kabiru Sokoto) and as at 2015, he was being held in Kuje prison following his conviction over his role in connection with the 2011 Christmas Day bombing of St. Theresa Catholic Church, Mandalla, Niger State.
The blast in respect of which he was given life conviction, claimed about 44 lives and wounded 75 others.