Driven by anger, frustration, betrayal and a host of other nerve-racking emotions, a husband has murdered a man he caught sleeping with his wife on their matrimonial bed.
According to Punch, 32-year-old Ezekiel Igbokwe, caught his wife, Juliet and another man, Victor Olatundun frolicking on his matrimonial bed on his return from a business trip in Onitsha.
"I travelled to Onitsha on July 25, and when I came back on July 27, I met a man inside my room making love to my wife. Then we started fighting. The man was stronger than me. When I saw he could overpower me, I got a cutlass in my toilet and dealt him blows in the hand and neck. On the way to the hospital, the fuel in the car finished and he died."
Igbokwe said he committed the crime due to anger, adding that he never meant to kill the victim.
The wife, Juliet, who sobbed intermittently, said her alleged lover had been pressurising her for a relationship for some time but she'd always told him she was married. He never gave up until she gave in and the duo slept together on that fateful night.
Juliet, who said she sold snuff, said Victor was her supplier and he pestered her for six months before she finally gave in.
She also added that Ezekiel never looked after his family well and would always leave his matrimonial home for months whenever they had a fight.
The Igbokwes have been married for 12 good years and were blessed with three children.
The incident happened in Ago-Iwoye area of Ogun state. Ezekiel has been arrested by the police along with his wife.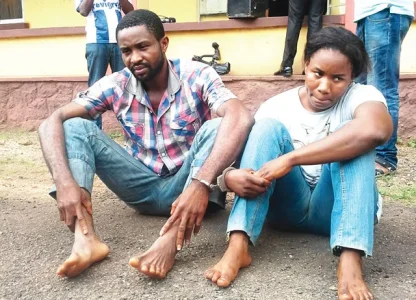 Photo credit: Punch