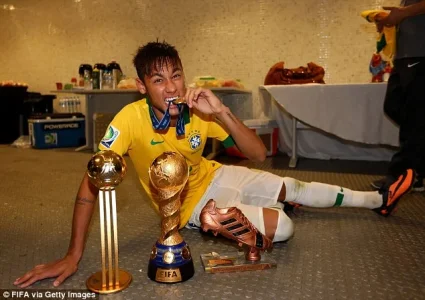 Brazilian striker Neymar has revealed that he was very close to being paralysed and confined to a wheelchair following the injury he suffered in their quarterfinal match at the 2014 FIFA World Cup.
Neymar was stretchered off in the 2-1 win against Colombia,after defender Juan Zuniga rammed his knee on his spine.
The Barcelona player was ruled out of the remainder of the tournament,with medical reports saying he risked being crippled had the challenge been a little higher.
"I thank God for helping me, because if that blow had been a few inches lower I would have risked being paralysed," said Neymar.
Neymar said Zuniga called him to say sorry,but he didn't say if he has forgiven him for the challenge that mired his World Cup campaign.
"I don't hate him, I don't hold a grudge, but I don't feel anything," said Neymar.
"It's difficult to talk about a move that ended happening in such an important moment of my career.
"I won't say he came to injure me - I don't know what was going on in his head - but everyone who understands football can see that it wasn't a normal challenge."
However Neymar said that he will be rooting for Argentina to win the trophy as he would want Lionel Messi to win the cup.
"He's won almost everything and I think he deserves to be champion. He is my team-mate and my friend."