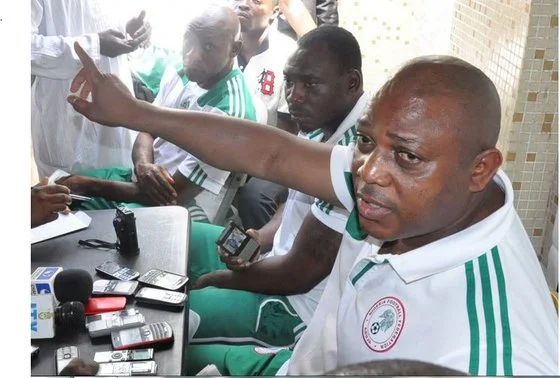 Super Eagles coach Stephen Keshi has expressed his unhappiness in the attitude of his players in their 2-3 to Congo in the 2015 African Cup of Nations qualifiers in Calabar on Saturday.
Surprisingly,Keshi said that he anticipated the result,adding that he had a premonition that they would lose the game.
Congo stunned Nigeria with a victory at the UJ Esuene stadium which secured all three points for the Claude Leroy team.
"I'm very disappointed. It was not just the result but the way we played in the first half. I was like a soothsayer because I saw it coming and I talked to the boys that they had to be aggressive and first to the ball.
"I've played against the Congolese team before and I know they play tip-tap football. We scored the first goal and that was it. It's a shame that we had opportunities, mostly in the second half, but we could not score," Keshi said immediately after the game.
"I told them (players) they were not playing their game. They were not themselves, they were not playing, they were second to the ball and they needed to change the mentality. They came back in the second half and you could see the difference. But if you are playing a team like this, they are going to come hard and park the bus. And that's what they did in the second half. Who won't do it?
"It's football. Brazil lost 7-1 and we lost today (Saturday). Everybody is going to lose someday. We cannot win all the games all the time. This is where we need the media and Nigerians. They have to be behind the team, so that we can go to South Africa and win"
Nigeria will have to ensure that they win the Wednesday battle against the Bafana Bafana to keep their hopes of qualifying for the tournament in Morocco and defend their title proper.
However,if the losing streak continues,coupled with the fact that their is an imminent ban looming from Fifa if the NFF does not put its house in order, Nigeria could be forced to watch the Nations Cup qualifiers at home.
Last edited by a moderator: