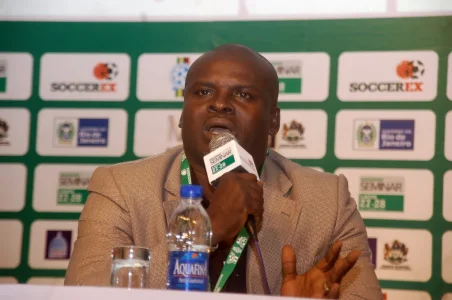 Former chairman of the Nigeria Professional Football League Victor Rumson Baribote has said that the interest of the country made him to plead with his wife,Ebiakpo Baribote to vacate her law suit against the Nigeria Football Federation(NFF).
A law suit filed against the NFF saw a court ruling sacking the entire executive board members of the football federation,which in turn caused the world football governing body,FIFA to place Nigeria on an indefinite suspension.
Nigeria would have forfeited some things in the event of a full ban,the female under 20- team would not have taken part at the under 20 Women's World Cup in Canada,while the under 17 Men's team were fortunate to have their African Youth qualifiers against Congo postponed till next week.
Baribote said that he had to plead with the wife to vacate the suit for the interest of the country.
"I pleaded with my wife (Ebiakpo Baribote – plaintiff), to vacate the case after due consideration and in the interest of the country.
"We decided on that, having seen what the country's football has been through since the court injunction. We also considered the U20 women team, so they can travel for the FIFA U20 Women's world cup in Canada.
"Also having discussed with the sports minister, my wife decided it was the right thing to do, in the interest of the country. Despite the victimization I suffered at the hands of the NFF, the interest of Nigeria should come first," Baribote was quoted as saying on Vanguard Sports.