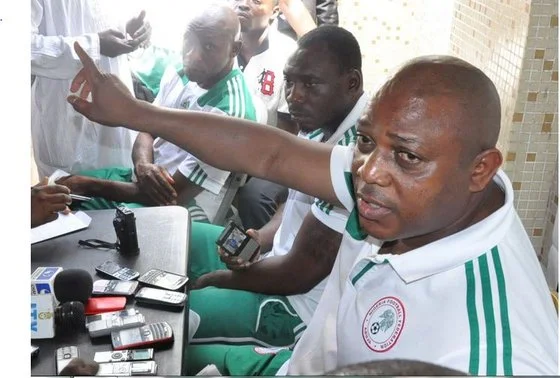 Stephen Keshi has once again reiterated his willingness to continue as the Super Eagles coach.
A new deal is yet to be reached with the Nigeria Football Federation(NFF) but there are concrete talks to have Keshi's contract renewed following its expiration after the 2014 World Cup tournament.
Only on Wednesday,reports emerged that the NFF are willing to increase Keshi's monthly salary to N7million in order to give him an improved deal.
Keshi while speaking with Africanfootball.com confirmed that he had a conversation with the head of NFF marketing committee,Deji Tinubu and that he would love to continue working with the Super Eagles.
"Yes, I met with Deji Tinubu in Lagos before heading out for America to see my family.
"It's my country, I am ready to serve. I have started something I would love to finish."
However,Keshi outlined a lot of things that he would want corrected before he comes back to the team.
"But I cannot work the way I worked last time. It's not possible! All my staff, no!no!!no!! We have to be professional, everybody has to do what they are supposed to do," he stated.
"I cannot be paying another staff salary, when I am not the Nigeria Football Federation. We will see how it goes. If the conditions are met, we will be there, no wahala."
Tinubu, who is the Head of a three-man committee mandated to see to Keshi's contract renewal, said: "We have made tremendous progress.
"We will first send a letter of our intent for a renewal of his contract and expect a reply from him as quickly as possible.
"This would allow us to start working on the terms of contract. We would have our terms and we know he would have his terms. But we would be working in such a way that we would arrive at an agreeable term that would suit both parties and then hopefully he signs.
"We can't put a time limit on this, but we hope we are done with it as quick as possible considering that we have a game in September,"he added