President Muhammadu Buhari has said that he will fulfill all his campaign promises.
Buhari made this known on Tuesday at Kuchigoro Primary Health Centre (PHC), Abuja, while inaugurating the Model Primary Health Care Centre for Universal Health Coverage in Nigeria.
He said the government will ensure the provision of adequate healthcare delivery to Nigerians.
"I am hopeful that our women will no more be dying needlessly during childbirth; our children will no more be dying needlessly as a result of vaccine-preventable diseases or common ailment; access to health care will not be limited because of lack of money to pay," he said.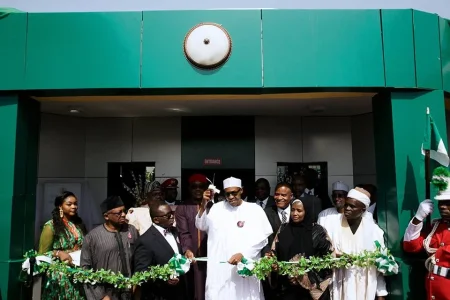 "I want to assure Nigerians that government will continue to ensure that great numbers of Nigerians have access to quality basic health care services. Accordingly, the provision in the National Health Act, 2014, for the basic health care provision fund is in the process of being implemented.
"I also assure my fellow countrymen and women that our administration will fulfill all the promises made to the people.
"The provision of quality health care service will reverse the poor health indices in the country."
Buhari added that the government plans to revitalise 10,000 primary health care facilities across the country.