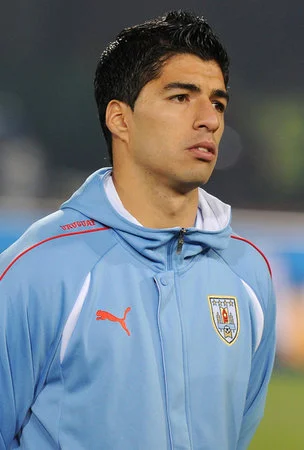 Uruguay striker Luis Suarez says he would gladly repeat his handball antics to save his country if the need arises again at the on-going 2014 World Cup in Brazil.
Suarez used his hand to stop a goal-bound nod from Ghana's Dominic Adiyiah in the extra time at the 2010 competition hosted by South Africa.
Uruguay would later qualify via a dramatic penalty shootout which denied Ghana an opportunity of being the first African team to reach the semi finals of a World Cup competition.
Presently in the Uruguayan team for the 2014 World Cup,Suarez is expected to make his first appearance at the tournament against England on Thursday as he is still recovering from a knee surgery.
"For me I didn't do anything wrong," Suarez said.
"I sacrificed playing in a World Cup semi-final for my team-mates to have that chance.
"I didn't injure anyone. It's not something to feel bad about."
However, the English Premier League top goal scorer with 31 goals in 33 appearances for Liverpool FC,is determined to correct the "Bad Boy" tag he is known for.
"I want to change the bad boy image that has stuck a bit because I don't think I am at all how I am portrayed.
"It's awful to hear and read what is said of you.
"I still fight for every ball, want to win every game and get upset when I lose. On the field sometimes passion overwhelms you and you do things you regret afterwards.
"But you have a chance to learn from these things.
"I think I have been a role model since last summer. I have been professional and I have this desire to forge ahead and play well, regardless of what is said to me."
Uruguay were shocked by Costa Rica in their opening fixture 3-1 on Saturday while the other group's fixture ended in a 2-1 win for Italy vs England.
Last edited: