A 38-year-old Remi Agunbiade, resident of Ita Barika, Foko, Ibadan, Oyo State, was arrested over an alleged attempt to kill her husband, Olawale Shola, by pouring acid on him last Friday.
According to Tribune Metro, she said her husband, Shola forced her to abort pregnancy twice and since she has not been able to conceive again when they first met in 2003.
"Then, he had a wife with 2 kids. When I had my first pregnancy, he said that his wife was also pregnant with their 3rd child, asking me to abort mine, which I did. He used to schedule his stay between the two of us."
We used to quarrel often and this got me worried because I knew that if he left me, I would not be able to have another steady relationship since no man would be willing to live with a barren woman. I met a lady called Iya Azeez at a provision stall, 2 months ago.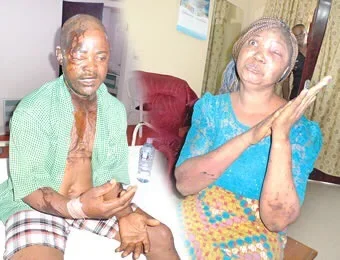 "The woman took me to an Alfa, who gave me a substance and told me that it was a charm meant to endear my husband to me. I never knew that what she gave me was acid. All I was trying to do was to keep my husband's love so that he would not think of leaving me, because I know that my marriage with any other man would not endure because of my barrenness."
Remi says she doesn't know where Iya Azeez stays.
During our discussion, I intimated her of my challenges and said that I didn't want to leave my husband. She replied that I would have to resolve the issue through self-help. She said she would help me get water that had been prayed into from an Alfa, stating that all I would need to do is to sprinkle it on my husband, after which he would love me without holding anything back.
She gave me a bottle containing the liquid substance last Tuesday. On Wednesday morning, Shola, was lying down when I took the bottle and poured the content on his head. He cried in agony from sleep and I also shouted and ran out. Some of the liquid got rubbed on my body when he held me, giving me some burns."
She confirmed that she recently quarreled with Shola concerning accommodation and that he started dating another lady in her neighbourhood about 3 years ago, and that the lady used to scorn her childlessness.
Shola however says it was his first wife, with whom he now has 4 children, that cursed Remi that she'd never have any child till she quits the relationship.
The Oyo State Police Public Relations Officer, DSP Adekunle Ajisebutu, who confirmed the story, said that the suspect was still undergoing investigation, adding that she would be arraigned to court at the conclusion of investigation.
Ajisebutu warned members of the public against adopting acid as a weapon of revenge, saying that the act was criminal.
- Tribune Newspaper