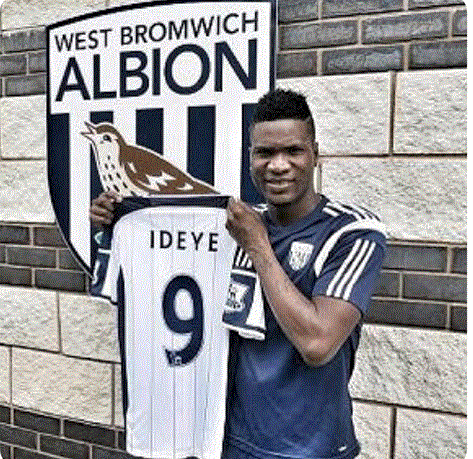 Nigerian striker Brown Ideye has revealed that visa hitches has hindered him from making his debut for new club West Bromwich Albion.
West Brom broke their transfer record to sign the Nigerian whom they paid £10million to Dyanmo Kiev for.
The 25-year old is still holed up in Nigeria and has missed West Brom's pre-season games as he is yet to team up with them.
"Officials at the British High Commission (in Nigeria) are still working on it," Ideye told the BBC Sport.
"The club has fulfilled all the necessary requirements, but I have been told that the British High Commission require up to 15 days to sort this, which is preventing my ability to travel.
"The public holiday in Nigeria last week (Eid) slowed things down a little bit on this side.
"I hope to get it sorted in the next couple of days because I can't wait to join my new team-mates in England."
Ideye admitted that a bit of frustration at the development,adding that he would want to hit the ground running in order to impress his new coach.
"I need to join the team first then train with the squad in front of the manager (Alan Irvine) and so far I have not been able to do that," he said.
If things are not sorted out rapidly,Ideye could miss West Brom's first game of the season against Sunderland.