The Borno State Governor, Kashim Shettima, said on Wednesday that though sad, the Tuesday accidental bombing of a civilian population in his state is not a new thing.
The governor said several wars that shaped the history of mankind were not ended without cases of people dying, not from the bullets of the enemy, but by friendly fire of their own soldiers.
The governor who made this comment when the federal government delegation paid him a sympathy visit at the Government House Maiduguri, said though the state was grieved by the "unfortunate incident", his government still remains grateful to the soldiers for the role they have played so far in securing Borno from Boko Haram.
"The incidence of friendly fire is as old as the history of mankind. They constituted up to 5 to 20 per cent of all casualties in war. From the war of the Rose of 1471 to the English civil war of 1643, to the Napoleonic wars, to the American war of independence down to the first and second world wars, such incidences like people dying out of friendly firing were very rampant.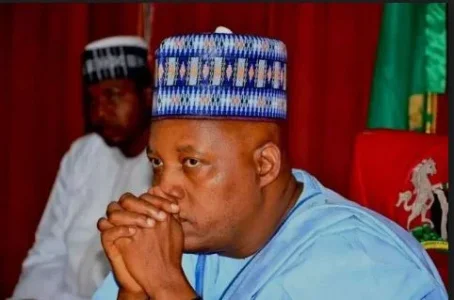 He said: "On 3rd May 1945, the RAF fighter pilot attacked three German ships; and unknown to the pilot, those German ships were carrying concentration camp survivors and allied prisoners of war. Ten thousand people perished in that attack alone. And even very recently, there was an incidence in Afghanistan where United States fighter pilots attacked a hospital…killing 25 persons including women and children. So also in Syria when a coalition air strike attacked a wedding convoy killing 25 people; was the case in Iraq.
"We are not justifying the sad incident of Tuesday; but we are going down memory to show the world that such incident usually occurs in times of war".
The governor said rather than being angry at the soldiers for what happened, he was happy with the soldiers' uncommon candour by coming out on time to tell the world the truth about the incident.
Recall that least 52 people were killed and 120 others injured after a Nigerian Air Force jet accidentally bombed a Rann camp for persons displaced by Boko Haram, IDPs.