Oweikeye Endoro, an Ijaw activists has stated that the Ijaw people are not interested in secession and will not be joining Biafra.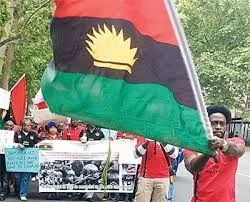 According to Endoro, this was clearly noted in the historic Kaiama Declaration (KD), of 1998. He also said: "I read the condemnation of Rivers State Governor, Nyesom Wike, who said in Sultan's Palace, Sokoto, that Niger Delta leaders stand by Nigeria whose unity is non-negotiable.
"For me, Governor Wike's comment is within the tenets of the Kaiama Declaration accepted as a working document of the Ijaw nation."
Emphasizing on article 10 of the Kaiama Declaration, Endoro also said: "We agreed to remain within Nigeria but to demand and work for self-government and resource control for the Ijaw people.
"The federation should be run on the basis of equality and social justice. Having agreed to remain in Nigeria, we cannot work towards its dismemberment but seek self-determination, resource control and social justice therein for the good of all Nigerians.
"Nigerians should not misconstrue 'self-determination' enshrined in the Kaiama Declaration as a secession bid. The Ijaw ethnic nation, the fourth largest in Nigeria, is unfortunately balkanised into minorities in several states where they are politically subjugated by minor ethnic groups."