Barrister Eric Omare, the newly elected President of the Ijaw Youth Council (IYC) said, the visits of the Acting President Yemi Osinbajo to Niger Delta states will be a huge waste unless the issue of resource control is addressed.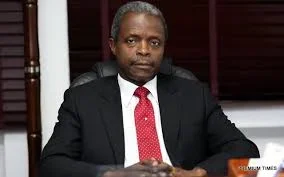 Speaking to journalists in Warri, Omare said, "Our view is that why the tour should be used to build confidence, that should be capped up with a dialogue between the Niger Delta people and the federal government to address the key question of resource ownership.
"No amount of tour or palliative measures will be enough to address the Niger Delta problems until the issue of resource control is resolved. That is the issue that has been fueling crisis in the region.
"The Acting President should cap up the visits with the setting up a federal government negotiating team with PANDEF to negotiate the question of resource ownership to achieve permanent peace in the Niger Delta region."
He added: "I want to disagree with Acting President Osinbajo who said there is no need for dialogue. No amount of tour of the Niger Delta region will address the issue of the region until the issue of resource control is addressed. Until the issue of justice is addressed, the region will know no peace. We believe in equity, fairness and justice."