Governor Adams Oshiomhole of Edo State, on Monday said he is not afraid to tell the whole world the truth about Chief Gabriel Igbinedion, the father of a former governor of the state, Lucky.
Oshiomhole vowed to publish activities of the former governor in office.
Lucky Igbinedion ruled Edo State from 1999 to 2007.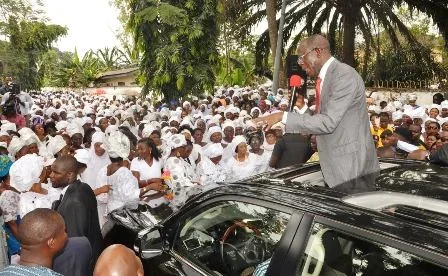 He said this when thousands of women dressed in white attire marched through the streets of Benin City, demanding apology from Chief Igbinedion to the good people of Edo state.
The women carried placards with inscriptions such as – "Esama leave Oshiomhole alone." "Chief Igbinedion stop using youths and women to cause trouble," "Edo people must move forward," "Oshiomhole, Edo people are proud of you" and "Igbinedion, go and pay Land Use charge."
- The Nation