Governor Rochas Okorocha has announced the recall of the over 3000 workers in 19 parastatals of the State in the heat of a protest by members of the Nigeria labour congress.
The state Chairman of the NLC, Austin Chilakpu, had said the protesting workers would commence an indefinite strike if the government failed to meet their demand to rescind the controversial concession policy and recall the sacked workers.
The workers wore black clothes and chanted solidarity songs, while displaying placards bearing inscriptions, some which read, "Okorocha, you are wicked," "Rochas revert your policies, it is anti-workers" and "We cannot fear your antics again," among others.
They eventually stormed the Government House despite the heavy presence of security men, where they were addressed by Okorocha.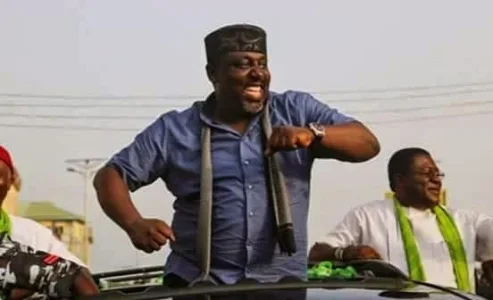 While addressing the aggrieved workers, yesterday, at the Government House, the governor said the 'suspension' of parastatals workers was for the overall interest of the state.
He noted that his government which started in 2011 never owed workers, adding that it was only in Imo State that N20,000 minimum wage was paid to workers.
Also addressing journalists, the National Chairman of All Progressives Congress, Chief John Odigie-Oyegun, noted that the fate the APC was suffering today was borne out of the recklessness of the past administration led by the Peoples Democratic Party.
He said that there was a colossal drop in the national income following the drop in oil price.
Okorocha later ordered the recall of the sacked workers.