A new meditation ritual in China is seeing women lying in shallow graves to reflect on marriage failure. The women who are from Chonngqing, a city in southwestern China, are 'meditating' at the graves to help them cope with the devastating effects of divorce. In the photos, the women are seen sleeping in graves with only a thin piece of plastic. They appear to be lost in thoughts as they lay with their eyes closed and hands in a prayer position.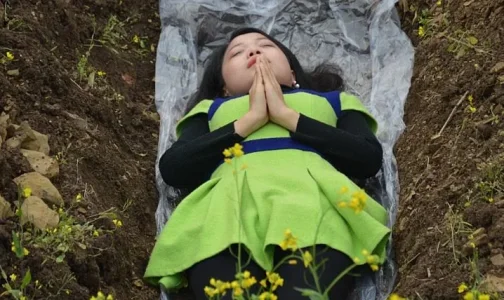 Speaking to Daily Mail, the woman behind the strange philosophy, a 30-year-old, Liu Taijie, said she wanted to help other women suffering from depression and divorce after battling through hardships herself.
'WHEN A PERSON IS DESPERATE, HE OR SHE COULD ALMOST FEEL THEY'RE NEAR DEATH. BY LYING IN THE GRAVE, MY STUDENTS COULD TRY TO EXPERIENCE DEATH.' 'THIS WILL REMIND THEM THAT THEY HAVE NOT DONE MANY THINGS IN THEIR LIFE AND THAT THEY NEED TO FORGET ABOUT THE PAST AND START A NEW LIFE. SHE ADDED.