The story of qualitative education in LEA Nomadic Primary School, FCT is not a good one, even though it has a welcoming, beautiful and heart-warming building structure.
A recent investigative report by
Daily Trust
reveals that the teachers in the school have to tax themselves in order to buy not only teaching materials to enable them discharge their duties and responsibilities to earn their pay, but also learning materials for their pupils so they can retain them in school.
Daily Trust gathered that due to the situation, the school, which had over 500 pupils in the past, now has less than 150. This setback has affected learning activities in the school as some classes are now left empty.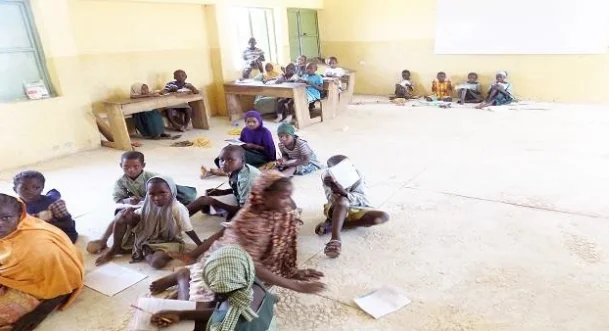 Pupil of primary 3 and 4 during class hour
Investigations revealed that the teachers had to merge classes due to dearth of pupils. Despite measures taken by the teachers to make learning attractive to the pupils, the number of the pupils per class has dropped to less than 30 while in the entire classes, 1 and 2, there are less than 40 pupils at the time of this report.
One of the teachers who didn't want his name in print said: "We have many problems in this school. There is shortage of pupils, no staff room, no chairs, no table and we lack other learning materials and facilities.
"We merged classes because we don't have enough teachers, no chairs, no cardboard papers and no textbooks in the school," he said, adding that "most of the Fulani herders withdrew their children for cattle rearing."
The school was officially set up for nomads' children but with the poor attitude of the parents toward enrolling their children in the school, non-nomadic children have taken over the school.
Most of the pupils take lessons in tattered uniforms and casual dresses. Some come to school barefoot without learning materials. Some female pupils among them do not wear uniforms to school.
Apart from dearth of teachers, the school lacks such necessities as staff rooms where teachers prepare for their classes. Lack of seats for the pupils in some of the classes forces many of them to sit on bare floor to learn. The toilet in the school is dilapidated and nauseating.
"In this school, teachers tax themselves to buy chalk, books and other learning materials," one of the teachers who pleaded anonymity told this reporter.
"Even if you asked some of the parents to contribute N100, they will withdraw their children from the school. That is the reason we decided to contribute the little we have to buy those learning materials, apart from the lack of chairs in the classes."
He said: "Our problem in this school is that the Fulanis are yet to release their children, but we are trying to enlighten them to allow them to attend school. That is why the system operating in this school is different from that of any other school. Here we close by 12 noon so that the children will go back home to herd their cattle."
Sometimes, their parents (nomads) would come to school and drive their children out of the classes to go and herd their cattle.
---
Daily Trust