India's children's minister has called for mandatory tests to determine the sex of an unborn child in a bid to counter high levels of female foeticide, sparking fierce criticism Tuesday from women's activists.
Prenatal sex tests are officially illegal in India, a policy designed to stop so many unborn girls being aborted by parents desperate for a boy.
But in a speech late Monday, Women and Child Development Minister Maneka Gandhi said a more effective strategy would be to record the sex of a foetus at the outset of the pregnancy and then monitor its progress.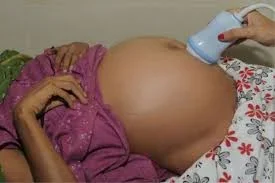 "How long are we going to keep making criminals out of people? How long are we going to put the onus on sonographers?
"My view is why not change the present policy. Every pregnant woman should be compulsorily told whether it is a boy or girl," Gandhi said.
"When a woman becomes pregnant it should be registered and that way you will be able to monitor right until the end whether she gave birth or not and what happened," she said in the western city of Jaipur.
- Guardian