The Independent National Electoral Commission (INEC) has accused Kogi State Governor, Yahaya Bello of registering twice for Permanent Voter Card.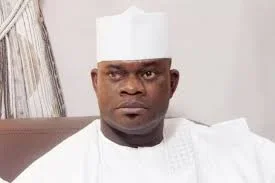 PREMIUM TIMES reports that Prince Solomon Soyebi, INEC's National Commissioner and Chairman, Information and Voter Education Committee (IVEC) made the claim via a statement.
The statement read, "It has come to the attention of INEC that Kogi State Governor Yahaya Bello registered as a voter for the second time on Tuesday May 23, at the Government House in Lokoja.
"His first registration was on January 30, 2011, in Wuse Zone 4, Abuja. The governor's double registration, and doing so outside lNEC's designated centres, are both illegal.
"For the Continuous Voter Registration (CVR), INEC has designated a centre in each of the country's 774 local governments areas, including FCT's six Area Councils."
"We wish clarify that no INEC worker was authorised to re-register Bello or any citizen, or to do so outside our designated registration centres. The commission, therefore, dissociates itself from the governor's action, and promises to take disciplinary action against the staff who conducted Bello's second registration.
"As for the governor, Section 308 (l) (a) of the 1999 Constitution (as amended), precludes lNEC from prosecuting him while in office. However, the commission has cancelled his second and illegal registration forthwith.''