The Indigenous People of Biafra (IPOB) in a statement by its spokesperson, Powerful Emma revealed some mysterious things about its leader Nnamdi Kanu and the Biafra struggle.
The group shared a map alongside the statement.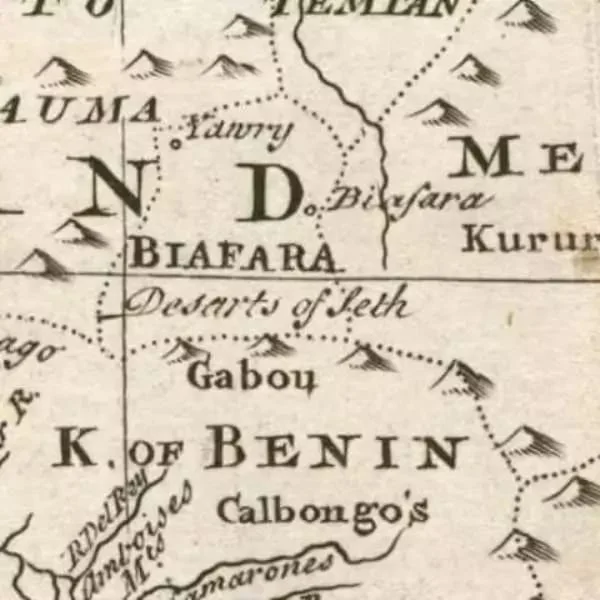 "Look at this this ancient map of Biafra and marvel at the divine force behind Kanu and IPOB," Emma said.
1. "Can you notice the beloved country Biafra was originally called BI-AFARA, yes you read it right and Nnamdi Kanu was born in AFARA his village in Ibeku Umuahia."
2. "Do you know where the Biafra war ended, the place OJUKWU took off from to Ivory Coast? Yes you have guessed it right, the same Nnamdi Kanu's village Afara."
3. "Do you know the location of the last Biafra capital and headquarters? Yes, you guessed it right, in the same Afara on the ancestral lands of Nnamdi Kanu's family Okpulo Isiokwe in Isiama Afara. Hope you are still following."
4. "Do you know Ojukwu's last broadcast was made from this same Afara and so was the last Radio Biafra broadcast of the war?"
5. "Do you know Nnamdi Kanu with his friend Dr. Chukwuma Egemba operated their management consultancy company in London called Alpha Phoenix Consulting Ltd? When KANU chose the name he didn't know what it meant. To him it was just a very good name for a soon to be trendy management consultancy firm in London."
6. "Unknown to Kanu and his friend, Alpha Phoenix means the rising of the mythical bird Phoenix that rose from the ashes of defeat to conquer. The same way Biafra has risen from the ashes today and is poised to gain her overdue freedom."
7. "Alpha is first in Greek alphabet i.e. 1 (One) and KANU is from Isiama which means first or number one kindred. Are you still following?"
8. "How can Uwazuruike the criminal, ever think that Nwa Chineke Nnamdi Kanu can ever be like him?"