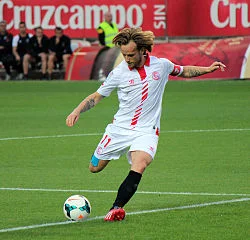 Ivan Rakitic believes his new club,Barcelona can be as formidable as their arch-rivals Real Madrid in their quest to win trophies this season.
Barcelona last season failed to win a trophy while their counterparts,Madrid have won three since then: Champions League,Spanish Cup and the European Super Cup
After seeing Madrid's impressive performance against his former team,Sevilla in the Super Cup,Rakitic still thinks Barcelona can challenge them this season.
When asked about how scary Madrid had become with the arrivals of James Rodriguez and Toni Kroos, Rakitic told SPORT: "I respect everyone, even Madrid, but, I prefer to talk about the club.
"We work for ourselves, as every team in the league. We are also able to be scary and play well. We work every day for it."
He added: "It is normal for the biggest teams to have this kind of rivalry [between Barcelona and Real], but we have to think about ourselves. Here we have the world's best."
Rakitic moved to Barcelona from Sevilla for €20 million having scored 12 goals for Andalucians last season
"I do not want to limit myself, I want to be better, if I can also improve the numbers, the better, but the important thing is the play.
"I cannot say I'm going to play like [Lionel] Messi or will overflow into the tackle like [Andres] Iniesta. People who know me from Sevilla, know it's about my play.
"I think at Barca it will be easy to adapt with such good players. So far it is fine for me, I'm happy, but I want to keep improving in every training and every game."
Photo Credit: Wikipedia
Last edited by a moderator: