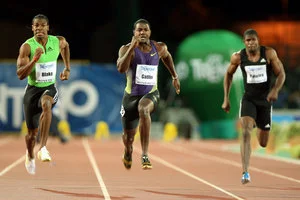 Jamaican athlete Yohan Blake has tendered an apology for pulling out of the 2014 Commmonwealth Games taking place in Glasgow,Scotland.
Blake said that he could not jeopardise his preparations for the Rio 2016 Olympics which made him to withdraw from the Commonwealth Games.
"Of course I'm disappointed to be missing out on Glasgow 2014 but it's in my best interests," he said.
"I'm trying to be positive and there will be many more Commonwealth Games to look forward to."
"I'm sorry I'm not going to be here, the Scottish people have really been looking out for me," he said. "But they understand the level of competitive person I am.
"It was a tough decision to make, but when I was talking to my manager and my coach they both said I had to get back to the level I was at before.
"There are the World Championships and Olympics coming up in the next couple of years and I have to be at my best for that."
Blake won two silver medals at the London 2012 Olympics,and is now focusing on regaining fitness for the next Olympics.