The wife and children of outgoing President Yahya Jammeh may have left Banjul, the capital city of Gambia on the eve of the deadline given him by the ECOWAS and the African Union to quit power.
Jammeh, a former soldier who once vowed to rule for "a billion years", is refusing to step down, despite condemnation from regional leaders and threat of an imminent invasion by West African troops to enforce his election defeat.
In a sign he is digging in, Gambia's National Assembly passed a resolution to allow Jammeh, who has been in power since a 1994 coup, to stay in office for three months from Wednesday.
The president's allies have deserted in their droves — at least eight ministers have so far resigned of whom four quit in the past 48 hours — and it is unclear how many of his own armed forces will be willing to defend him once his mandate expires.
But many Gambians are not waiting to find out.
At the sandy Bundung Garage bus station in the capital, Banjul, women carrying infants strapped to their backs queued up to get the belongings they had salvaged onto buses bound for the southern border with Senegal.
Men and children sat patiently amid piles of suitcases, rolled up foam mattresses, bags of rice, bottles of cooking oil.
"The last three days we've been submerged," said bus park manager Sonore Momodou Choi, his face shaded from the blazing sun by a fishing hat.
"Normally we load three minibuses per day. This week we're 25 a day, not including the bigger buses."
Jammeh declared a state of emergency on Tuesday, but a Banjul-based diplomat said it wasn't clear what extra powers this would give his forces or if the president even had the authority to enforce it.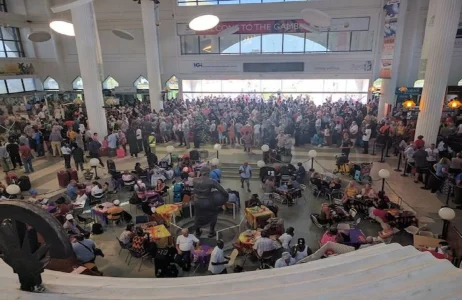 Others fled on pirogues across the river that splits Africa's smallest country down the middle.
In Zinguinchor, in Senegal's Casamance region south of Gambia, a Reuters witness saw 12 children crammed in the back of a van on a beach less a few hundred metres from the Gambian border next to a heap of belongings in plastic bags.
"We were scared by what we saw on the news," explained 14 year old Moussa Camara from Kafotang in Gambia. He crossed over in a pirogue with 27 other family members on Tuesday.
At least 26,000 people have fled Gambia to Senegal fearing unrest, the U.N. refugee agency (UNHCR) said on Wednesday, citing Senegalese government figures.
- Reuters/NAN