Senegalese forces continue to make arrests of former Yahya Jammeh loyalists in The Gambia's security set up as the former President left most of them stranded at the Guinea Conakry.
The latest being four guards assigned to Jammeh's wife, Zineb Souma Jammeh, who were arrested while trying to flee the country.
Jammeh's official photographer, Ebou Tarou Njie, has also been arrested by authorities at the Senegalese border post of Karang as he attempted to re-enter the country having left with Jammeh.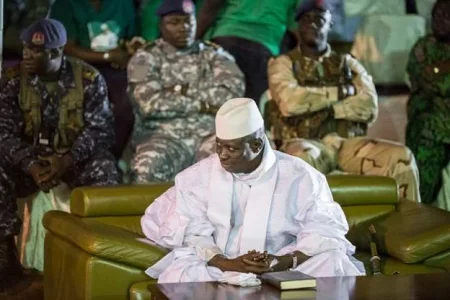 According to local newspaper, the Freedom, most members of Jammeh's entourage who left Banjul with him were stranded in Guinea Conakry – where Jammeh's plane transited before leaving for the Equatorial Guinea. Jammeh is currently on exile in the capital, Malabo.
39-year-old Zineb Jammeh, a Guinean – Moroccan is said to have amassed wealth illegally and is believed to be in charge of most of Jammeh's assets around the world.
Senegal, The Gambia's only landed neighbour, recently announced the arrest of former head of prisons and a key Jammeh ally, General Bora Colley. Senegal are also leading the Economic Community of West African States (ECOWAS) military mission in The Gambia.