An "angry" Jesus with "blazing eyes" suddenly appeared in the darkened sky amid a howling dust storm and, in a "mighty" voice, told a band of armed Islamist militants, "Why are you persecuting me?", according to a report by Gospelherald.com
The encounter with Jesus was recalled by one of the militants nicknamed Haroon, according to the group Bibles4Mideast.
Gospelherald.com said he told his own account of an incident earlier reported by the same Christian evangelisation group and published by Christian Today in October. That article was based on the account of Rizwan, one of the Christians being chased by the militants.
"The Christian baptism service was already finished and the Christians were already on the bus and on their way back to the church when the militants arrived. The armed men gave chase and began shooting at the bus.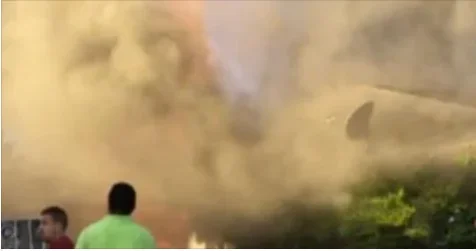 "Suddenly, a dust storm formed from out of nowhere. Haroon said they had to stop their vehicles because they couldn't see a thing.
"We were unable to move forward," he said. "We all got down from our cars and continue shooting through the dust storm."
"Then Jesus suddenly appeared in the dust storm. Haroon said His voice was so powerful that when he spoke, a strong wind literally swept them off their feet and blew their guns away. It a "terrible experience," he said.
Haroon said Jesus then told them that he "came to the world not to destroy anyone; but to save."
"Go in peace," Jesus told them, and He then disappeared along with the dust storm.
Source:
SundayAdelaja