The Group Managing Director of Energy Group, Jimoh Ibrahim, did the unthinkable Monday when he sacked Bolu Afolayan, the Managing Director of one of his companies, Newswatch Media Ltd. during a live TV broadcast in Abuja, Nigeria's capital.
This followed a prostest by some members of Nigerian Union of Journalists, NUJ, a the 5th Energy Group GMD Conference held at the Nicon Luxury Hotel, Abuja.
According to PM News, after announcing the sack of Afolayan, who is said to be Ibrahim's friend, he went on to appoint on the spot Mr. Demola Abimboye as the new managing director.
Related:
Jimoh Ibrahim's Staffs Protest Over Unpaid Salaries During His Live TV Lecture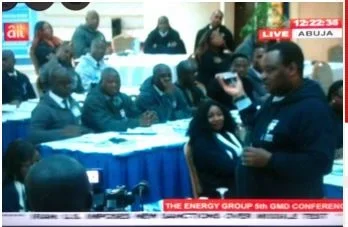 Speaking after the protesters had been convinced to have a meeting with some of the Group executives, Ibrahim said he had no apologies owing the staff members because they failed to generate their income after he has given them all the wherewithal to perform optimally.
"I cannot borrow to pay their salaries. It is not sustainable," Ibrahim said.
According to him, it's only the media section of 16 companies in his conglomerate that has salary issue. But the man many see as 'Corporate Bully', said he's ready to deal with the problem from that moment.
- PM News