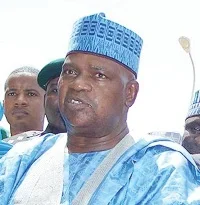 Senator Mohammed Danjuma Goje
(APC, Gombe) is the vice chairman of the Senate committee on Petroleum Resources (Downstream) which is one of four committees saddled with the responsibility of processing the controversial Petroleum Industry Bill (PIB). In this interview, Goje blamed the petroleum ministry, the NNPC and the Federal government for delaying the passage of the legislation. He also lamented that President Goodluck Jonathan is gradually becoming a dictator.
Excerpts
How will you describe your three years at the National Assembly?
My stay in the Senate for the last three years has afforded me some experience as I now see things from different perspectives. I was a member of the State House of Assembly in the Second Republic but it was something different. The experience in the Senate is totally different and you can only acquire it when you are inside. No matter how one is lectured you won't have a true picture of the parliament unless you belong. I have learned a lot in the last three years.
Click here to read more
Source: #DailyTrust