A U.S.-based human rights lawyer and humanitarian worker said on Tuesday that former Nigerian President Goodluck Jonathan spent more than $4 million on lobbying against the Bring Back Our Girls movement last year, after Boko Haram abducted hundreds of schoolgirls from the northeast town of Chibok.
In an interview with a Nigerian newspaper, Emmanuel Ogebe said the Jonathan administration's response to the kidnapping was a "colossal failure."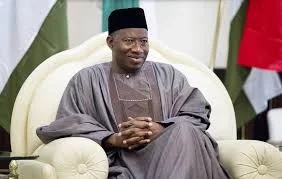 "The Jonathan-led-government had spent over $4 million fighting the Bring Back Our Girls campaign and almost fighting the veracity of the abduction, saying it wasn't true," Ogebe told Premium Times Tuesday. "The response was a colossal failure, it was an unmitigated disaster."
Boko Haram militants descended on a boarding school in northeast Nigeria on the night of April 14, 2014. By morning, the militant group had herded 276 schoolgirls into trucks and vanished behind the forest brush in the town of Chibok. Some of the girls have managed to escape on their own since then, but over 200 are still missing, and government search efforts have been unsuccessful despite a global social media campaign and pleas from international leaders.
Source