Operators of viewing centres in #Jos have adopted some security measures to enable them show the World Cup matches without hitches.
With the centres becoming targets of attack by insurgents, most of the operators of such centres in Jos, have adopted security measures to enable fans enjoy the games without fear.
Mr Nandom Musa, owner of a centre near Shepherd House Jos, said that he had engaged some individuals who would help keep watch over his centre.
``Before the matches, the boys and I will go round the centre to ensure that nothing suspicious is kept close to the hall.
``I have acquired hand metal detectors to thoroughly screen the viewers and ensure that nobody enters the hall with a dangerous weapon.
``We have some people permanently stationed outside to keep guard and make sure that no car comes close to the centre,'' he said.
Musa decried the loss of customers for fear of being attacked, in spite of the steps taken to ensure their safety.
``Since viewing centres have become targets of attack, many people have stopped coming to watch matches.
``I have contacts of some of them and I have been texting, to inform them of the efforts we have put in place, to allay their fears,'' he said.
Another operator in Dadin Kowa, Mohammed Sadiq, said that as a measure to safeguard the centre, viewers had been advised not to come to the centre with cars.
Sadiq said that he had engaged some hands to keep watch round the centre, adding that he was arranging with security outfits to keep watch over his centre during matches.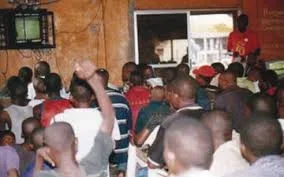 #BokoHaram
Last edited: