Chelsea manager Jose Mourinho has praised the performance of Brazil-born Diego Costa who helped his side beat Swansea City in their Premier league game on Saturday.
Costa, who scored his first EPL hat-trick was doubtful for the game before the team's medicals gave him a nod to feature for Chelsea,leading the charge as they came from behind to beat Swansea 4-2.
The former Atletico Madrid striker also won his first EPL player of the month award for August, after completing a £32m summer move to the Stamford Bridge.
"He is one of the best strikers at this moment in football," Mourinho told BBC Sport. "He is a special player."
"The team is an attacking team that creates a lot of chances and spaces for a striker," said Mourinho.
"The second goal is a brilliant collective action. [Cesc] Fabregas had a fantastic assist and Diego put the ball in the net. Diego is a good player but he is in a good team."
He has already scored two more league goals than Fernando Torres and Demba Ba each managed for Chelsea in the whole of last season, and only two fewer than Samuel Eto'o.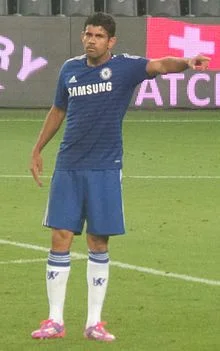 Last edited by a moderator: