Toronto Sisters, Jyoti and Kiran Matharoo, have been allowed to leave Nigeria; THE CABLE reports.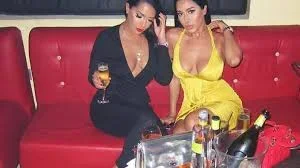 READ:
Sex Blackmail Scandal: Jyoti and Kiran Matharoo Apologize to Femi Otedola [VIDEO]
The media house reports that the sisters named "Canadian Kardashians" who were recently arrested for blackmailing randy Nigerian billionaires, have left the country ahead of their scheduled appearance at the Yaba Magistrate Court. The girls reportedly left with digital copies of about 274 pictures and videos of randy Nigerian billionaires and Politicians.
Police Sources told the media house that some of the pictures that were discovered from the sisters include - lewd photos of a very popular minister from the south-west and a former "uncommon" PDP governor from the south-south, naked picture of a bank MD and the photo of a high-flying lawyer and businessman from Kogi state pulling down his boxer's shorts.
Meanwhile, blackmail site NaijaGistLive which was associated with the sisters is threatening a comeback on Instagram. ''If you thought NGL was gone, you pulled a fast one on yourself bih. I noticed, the ones who were mysteriously happy thinking that NGL was gone are those who feel threatened by the truth and pure evidence of it. To all my NGL fans, when the new site is up and running (please be very patient, security is key): I will clearly state in every article that no TRUTHS shall be taken down for whatever reason. So when you communicate with random emails asking to take down a truth, just know it's not NGL and be advised NOT to pay money to anybody at all. (Name withheld for legal reasons), take notes! Stop cheating around with hoes and there won't be hoes trying to extort from you in the name of MY website. Okay? somebody please @him or send this to his email," the NGL posted on Instagram.