The Nigeria Police has urged Nigerians to disregard the graphic images in circulation on social media, purported to be that of Mrs Bridget Agbahime, who was killed in Kano last Thursday.
In a statement, the police said "all images currently in circulation" are not "the victim's picture and are not related to the murder case under investigation."
It added that Mrs Bridget "wasn't beheaded as being circulated," and added that the photos "are old images posted online as far back as year 2012."
"Three suspects have been arrested in connection with the case as at time of this post, efforts ongoing to apprehend remaining suspects," the police added.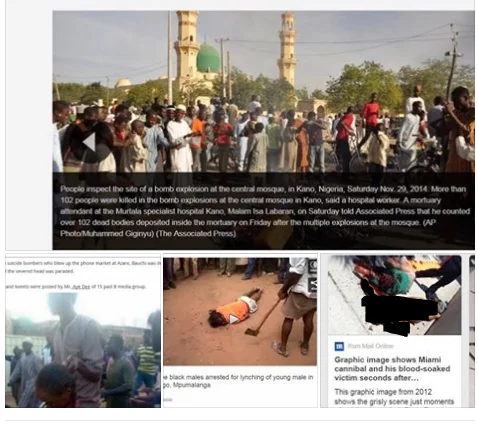 See source of those photos below;
Photo 1
http://www.foxnews.com/…/nigeria-more-than-102-killed-in-bo…
Photo 2
http://peacebenwilliams.com/bauchi-female-suicide-bomber-c…/
Photo 3
https://www.censorbugbear.org/…/three-black-males-arrested-…
Photo 4
https://www.pinterest.com/pin/549298485776765689/