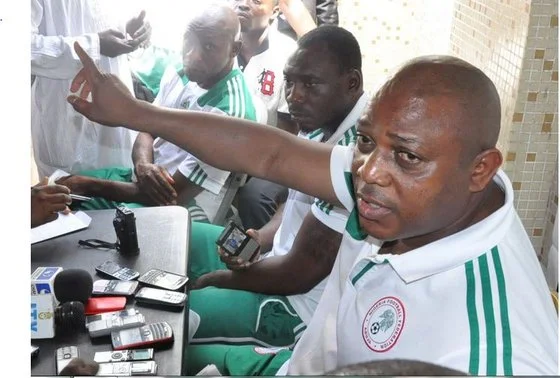 Stephen Keshi is unsure about his future with the Super Eagles national team after admitting an uncertainty over the role.
There has been speculation over the job of Keshi who has been linked with other African teams eager to sign him up.
With Nigeria crashing out of the 2014 FIFA World Cup losing 2-0 to France in the second round of the tournament,Keshi could be open to offers elsewhere as this might be a perfect time to end his marriage with the Nigeria Football Federation(NFF).
Speaking after the loss to France the Nigerian coach noted that anything can happen.
Reporter: "Are you going to remain as coach?" Keshi: "I don't know, I really don't know", the 52-year old coach replied.
Keshi's present contract will end in November next year but the NFF officials wants to tie him down on a longer term,even saying before the tournament that irrespective of the outcome of Nigeria's campaign in Brazil that they would want to keep him.
But reports have also emerged that the NFF have not offered Keshi a contract renewal which could have made him to consider his options.
Already,South Africa who are presently without a coach are rumoured to have lined up a two-year deal for Keshi.