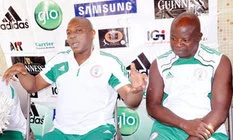 Head coach of Gombe United Maurice Cooreman has played down Nigeria's position in the recent FIFA rankings, saying that it does not portray the true quality of the current African champions.
Stephen Keshi's men remained 6th in Africa and 44th in the world with just six days to the World Cup despite recording two draws in their friendlies against Scotland and Greece.
Nigeria are also ranked 28th amongst the 32 countries that will feature at the World Cup and are the least ranked side in Group F where they have Argentina (5), Bosnia (21) and Iran (43).
Cooreman urged the Eagles coach to ignore the ratings and concentrate on their task of having a memorable World Cup in Brazil, insisting that Keshi's men will deliver at the championship in Brazil.
"Nigeria will play good football in Brazil regardless of the current rankings," Cooreman told Goal.com
"Though Argentina, Iran and Bosnia are better placed on the rankings than Nigeria, it won't stop them from getting to second round if their performances earn it after three first round matches.
"Tell the Eagles not to let the rankings bother them at all. They should however be bothered about their performances against their Group F opponents if they do not want to kiss the World Cup goodbye in
the first round," he added.
Last edited by a moderator: