Ekiti State Governor Ayo Fayose yesterday declared a war on herdsmen, who are unleashing terror in communities in the state.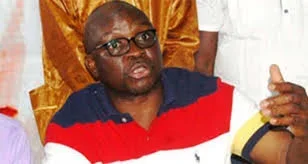 The governor urged the people to rise against the herdsmen and kill them to defend their lives, families and farmlands.
The governor gave this charge when he visited Oke-Ako community in Ikole Local Government Area, where suspected herdsmen killed two residents and injured four others in a night attack on Friday.
READ:
Fayose Talks Tough Over Fulani Herdsmen Attack in Ekiti
Fayose said: "From now on, my government has banned grazing in Ekiti State. If you want to graze, it should be in your local ranches.
"Any cow seen around should be seized and it would henceforth become government property and their owners shall be prosecuted.
"Before any herdsmen kill you, kill them, before they rape your wives, kill them, and before they rape your children kill them.
"I am giving you this order before they kill you kill them. You have to defend yourselves. Before they get you, you must get them down and take them out.
"You should pursue them, go and search for them inside the forest. Anyone who comes to take your life, you must take them out.
The governor told local hunters, who mounted a guard of honour for him, to always be on guard as his administration would give them moral, financial and logistics support.
Source: The Nation
Last edited by a moderator: