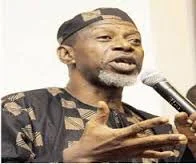 Edo state gubernatorial aspirant, and renowned poet, Odia Ofeimun has said the issue of rampaging herdsmen is capable of destroying Nigeria, advising President Muhammadu Buhari to take decisive action.
Ofeimun made this statement at the University of Ibadan while reading '
Taking Nigeria Seriously'
, one of his recent books. He said the bulk of the nation's woes could be linked to the fact that Nigerians and their leaders do not take the country seriously.
He advised the government on the steps to take in tackling the killings of innocent Nigerians.
"If we don't deal with the issue of herdsmen, there may be no Nigeria tomorrow," he said.
"Almost all Nigerian groups are brought up not to take Nigeria seriously; they fight against themselves and the future of their children by feigning to be fighting for the interest of their people… The Fulani must be made to move to where they have cultural empathy – dairy industries, corn-beef industries.
"Government must build a global industry around their cattle-rearing," he said.
He described Nigerian leaders as "hunter-gatherers" who move into a virgin environment which they graze to zero until it becomes a desert and then move to the next land, failing to plan for tomorrow in the process.
Source: TheCable