Senior lawyers yesterday expressed divergent views about the implication of swearing in Yahaya Bello as governor of Kogi State without a deputy taking the oath of office with him.
The supposedly deputy governorship candidate, James Faleke who ran on a joint ticket with late Abubakar Audu had declined to be a deputy to Bello. Bello replaced Audu.
In spite of his refusal, the All Progressives Congress (APC) did not appoint another person to replace him as the deputy till the inauguration yesterday.
Reacting to the situation with The Guardian, Mr. Adetunji Fadairo (SAN) said the situation is precarious.
According to him, the constitution did not favour the swearing-in of governor without a deputy.
He said: "If there is no deputy governorship candidate, I think there is a constitutional provision for somebody to act, probably the Speaker. I don't think the governor is allowed to be sworn in without a deputy. Constitutionally, it is untidy."
A human rights and constitutional lawyer, Adetokunbo Mumini said the constitution did not give any specific role to the deputy governor who is more or less like an appointee of the governor, adding, however, that there will be judicial intervention in the Kogi matter.
"It has never happened before that a governor would be sworn in without a deputy. I think that what should have happened is that the APC should have appointed another deputy governor-elect immediately Faleke declined, so he would be sworn in together with the governor. That is what the law provides for."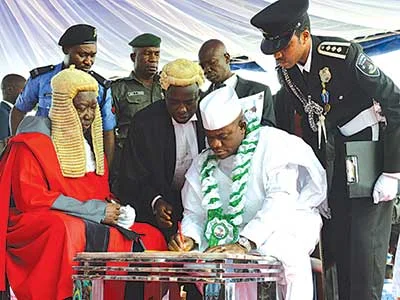 Chief Albert Akpomudje (SAN) believes the governor represents the substance, saying it is only when the governorship candidate is not in place that there will be an issue.
"The main man is there. It is only when he is not there that there can be serious issues. The governor can be sworn in while the issue of his deputy can be regularised subsequently", he said.
Lagos-based lawyer, Ebun Olu Adegboruwa said it was shocking that Bello was sworn in without a deputy.
It is against the constitution and electoral act that a candidate is being sworn in without a deputy. And apart from that Bello is not qualified because he did not participate in the election. The votes that were cast in Kogi State were in favour of the late Audu and Faleke as such Bello cannot claim another person's votes.