The management of EKO Electricity Distribution Company Plc (EKEDCP) on Thursday said it would soon publish the names of energy theft customers within its network.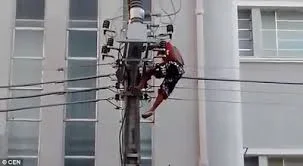 The company also list 3 areas in Lagos state referred to as 'rich areas' where electricity theft are been perpetrated most.
Mr Oladele Amoda, the DISCO Chief Executive Officer, disclosed in Lagos that the company was losing over 30 per cent revenue to energy theft monthly.
Amoda said it was surprising that educated customers constituted the bulk of energy thieves within its network.
According to him, most of the energy theft customers caught stealing energy without paying were elites living in enlightened areas of our operations.
"We are going to start publishing the names of energy theft customers within our operations in the dailies.
"Most customers caught engaging in energy theft live in lkoyi, Lekki, Victoria Island and most high brow areas," he said.
Amoda said that some of them engaged in by-passing of meters, reconnection without payment and tempering with meters among other acts.
He said that activities of the energy thieves and vandalism within its network cost the company over N1 billion monthly.
"In order to monitor our network effectively for fault detection, clearance and track energy theft, the company has awarded contract to automate the network.
"We have introduced specialist software to be used for the supervisory control and data acquisition of customers and faults."