An early morning fire in the Idimu, Ikotun area of Lagos State, has consumed a mechanic workshop and no fewer than 10 shops and three vehicles.
The fire started around 4am on Monday and was caused by an electrical surge.
Firefighters from the Lagos State Fire Service, Ikotun station, were said to have responded with 10,000 litres of water.
An official of the state fire service said inflammable materials in the mechanic workshop compounded the inferno.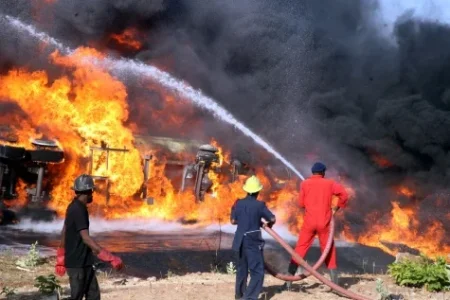 He said, "We got an alert from a resident exactly 4.18am and we deployed our men from the Ikotun fire station. They met the fire raging and battled it. There were 10 shops, built with corrugated iron sheets surrounding the mechanic workshop. They were all razed. Two cars and a bus were also burnt."
He added that there was no injury or loss of life.
The Director of the state fire service, Rasak Fadipe, said the fire was caused by an electrical surge, adding that investigations were ongoing.
- PUNCH