Everything is set for the Lagos State Independent Electoral Commission (LASIEC) to conduct the local government and council elections for the state on Saturday, July 22, 2017.
The council election is the first election after so many years of administration.
Here are few things you need to know about the elections:
1. About 30,000 police personnel and other security agencies would provide security during the elections.
2. Vehicular and movement within the state will be restricted between 7am and 3pm
3. The elections will be conducted in 20 local government areas and 37 local council development areas in all 377 wards in the state.
4. 12 political parties have been cleared by LASIEC to contest for the elections. They are: All Progressives Congress (APC), People's Democratic Party (PDP), Kowa Party (KP), Labour Party (LP), Accord Party (AP), and the All Progressives Grand Alliance (APGA).
Others are: United Democratic Party (UDP), Action Alliance (AA), Alliance for Democracy (AD), United Progressive Party (UPP), People's Democratic Movement (PDM), and the National Action Council (NAC).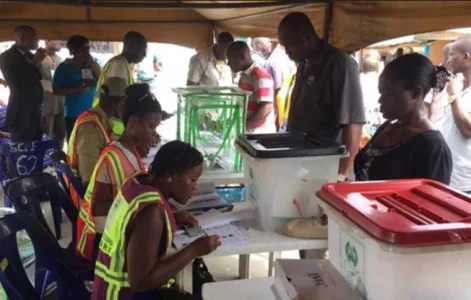 5. Across all 12 political parties, LASIEC validated the names of 1,300 candidates to contest for the Chairmanship and Councillorship positions.
6. The National Conscience Party (NCP) has called for the postponement of the elections due to LASIEC's refusal to register the names of its 77 candidates following the court action instituted by the party in protest of the administrative charge set for the contesting parties.
The electoral body had fixed administrative fee for the elections' Chairmanship, Vice-Chairmanship and Councillorship positions is set at N50,000, N30,000, and N20,000 respectively.
The party filed a lawsuit against LASIEC in a Lagos High Court on May 12, 2017, but the case has not been heard in court.
7. LASIEC has fixed the date for the state's run-off/re-run elections for the following week on Saturday, July 29.
8. The victorious faction of the Ahmed Makarf-led faction of the Peoples Democratic Party PDP did not field in candidates and the Lagos faction has teamed up with the Labour and Accord party to displace All Progressives Congress, APC, candidates in the state.
9. Governor Akinwunmi Ambode has said that the ruling party will win the council poll to continue to promote the idea of Asiwaju, the APC Chieftain, Bola Tinubu.