Not less than two naval officers and a boat operator were killed in a recent face-off between the joint security forces and pipeline vandals around Ishawo/Arepo area of Ikorodu.
Men of the Nigerian Army disclosed this to the lagos State Governor, Mr. Akinwunmi Ambode yesterday that the incident occurred during Operation Awatshe where 15 suspected vandals were arrested and over 2,000 50-litre jerry cans seized and 36 vehicles impounded.
Ambode who said that the state would no longer condone vandalism directed the Nigerian Army, Police and other security personnel to immediately intensify arrest of suspected vandals and cultists in the state.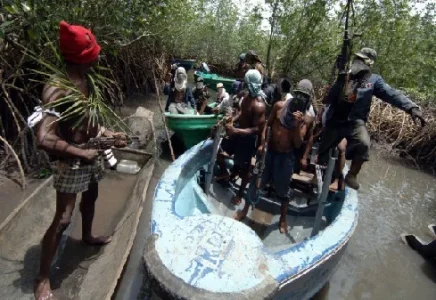 Commanding Officer of 174 Battalion Lieutenant Colonel Julius Ogbebo had told Ambode during an inspection tour of Ishawo/Arepo on Tuesday, that the joint forces had recovered Little Palace Hotel, one of the locatons the vandals often used to commit their criminal activities in the area.
Ogbedo said: "Also sir, we have recovered over 36 vehicles and we have more than 15 suspects. Some of them have been handed over to the Nigeria Security and Civil Defence Corps (NSCDC) for prosecution and further action.
- The Guardian