The Lagos State Government has disclosed that it may deploy drones in addition to the 1,000 CCTV surveillance camera mounted across Lagos as part of the efforts to effectively monitor developments and collect data and fight crime in the state.
"The use of unmanned drones to effectively receive updates and monitor developments in a megacity of our size may also not be out of place," the Commissioner for Science and Technology, Mr. Olufemi Odubiyi revealed in Lagos, yesterday.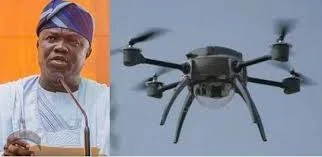 He said there was urgent need to upgrade and add to the existing 1,000 CCTV cameras in the state to complement the other crime prevention initiatives of the government which include the Security Trust Fund, Street Signage, House Numbering and the provision of three-digit number for emergency calls.
He said the present administration is set to deploy technology to dispassionately drive efficient allocation and development of resources.
He added that his ministry would soon embark on the re-configuration of the Enterprise GIS platform to make it more user-friendly, accommodate all government agencies, thereby enhancing informed decision making and better citizen-government relations.