A mother of two, Mrs. Oyinyechi Chinaka, was reportedly stabbed several times by her neighbour in Mushin area of Lagos.
Mrs Chinaka was rushed to the Lagos University Teaching Hospital (LUTH), Idi-Araba, but she lost her seven months pregnancy.
According to Vanguard, the victim's agony began after she allegedly caught the neighbour stealing money from her purse and, not wanting the woman to expose him at number, the suspect was said to have stabbed Mrs. Chinaka with a kitchen knife severally on her stomach, arm and neck and left her to bleed to death .
The mother of two could have died but for the timely intervention of neighbours who went looking for her and called for help after they saw her lying in her room in a pool of blood.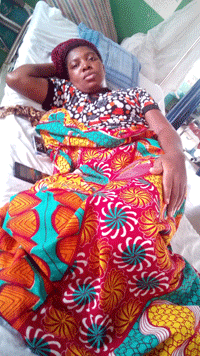 While neighbours were at a loss about what happened to her, the assailant went about as if nothing happened until he was found out by his elder brother and he confessed to stabbing Mrs. Chinaka .
A human rights activist, Mr. Ishola Agbodemu, urged the police to get justice for the victim, especially in the light of the lost pregnancy.
"If she had not been stabbed and made to go through such a terrible experience, she would have given birth to a child by now. The child's murder should not be overlooked by the police", Agbodemu said.
In his statement to the police, the suspect said he was pushed by an evil spirit to stab Mrs. Chinaka.
"I went to her house to steal money. She caught me but a spirit told me to stab her, so I went to the kitchen and took the knife and stabbed her with it. I stabbed her because I did not want her to reveal to other neighbours that I am a thief. I fled the house when I saw blood gushing out" she confessed.