The price of tomatoes has increased in most markets in Lagos, a survey by the News Agency of Nigeria showed on Friday.
Femi Odusanya, the spokesman for Mile 12 market traders, attributed the increase to the off-season and the lingering fuel scarcity in the country.
Tomatoes and pepper were in abundance in the last three months, prompting a basket of tomatoes to drop to N6,000 from N18,000.
At the Mile 12 market, a basket of tomatoes, which previously cost N6,000 now goes for N14, 000.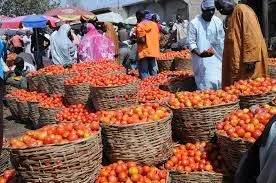 Tatashe and chilli pepper now cost N7,000 and N5,500 respectively, as against the N4,500 and N5,000 they sold for two weeks ago.
At Daleko Market, Isolo, the price of a 50-kilogramme bag of rice ranged between N13, 000 and N15,000, from N10,500, depending on the brand.
The traders attributed the hike in the price of rice to short supply within and the importation of various brands.
- NAN