Workers in the Ministry of Information and Culture on Wednesday protested over the Ministry's negligence to staff welfare and and gross misappropriation of public funds.
The protesters, who chanted songs and blocked the gate of the ministry, said they were subjected to work under poor conditions, delay of promotion arrears, non-payment of repatriation allowances and selective training of staff.
They urged President Muhammadu Buhari to probe activities of the ministry over non-payment of allowances, refusal to train staff, among others.
Chairman of the Association of Senior Civil Servants, Information Chapter, Adam Ogwola, led the protest.
While reacting after the Federal Executive Council meeting, Minister of Information and Culture, Lai Mohammed, said that he understands the reason why workers in his ministry are calling on President Muhammadu Buari to sack him.
Alhaji Lai said that it was impossible for the government to meet the workers' demands owing to paucity of funds.
"It is not unusual for unions to call for the removal of ministers. Any minister should expect that.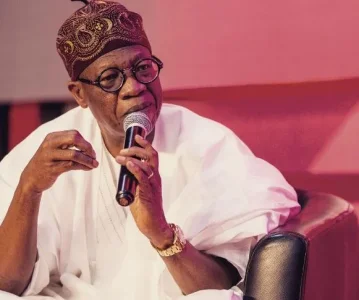 "They are complaining about welfare, but there is a limit to what government can do within the available resources.
"As much as we sympathise with them on the situation, the economy is simply not healthy enough to accommodate what it is used to accommodate in the past.
"If anybody is concerned and worried about expenditures in my ministry, they should go and check because it is open.
"We have appealed to them several times, but we met a culture that we cannot sustain", he said.